How To Add A Google Analytics Stats Dashboard In WordPress
Monster Insights is one of the best Word Press plugins for accessing Google Analytics. With this plugin you can easily monitor your sites traffic and get in depth details about the site. You can learn more about the Monster Insights plugin here.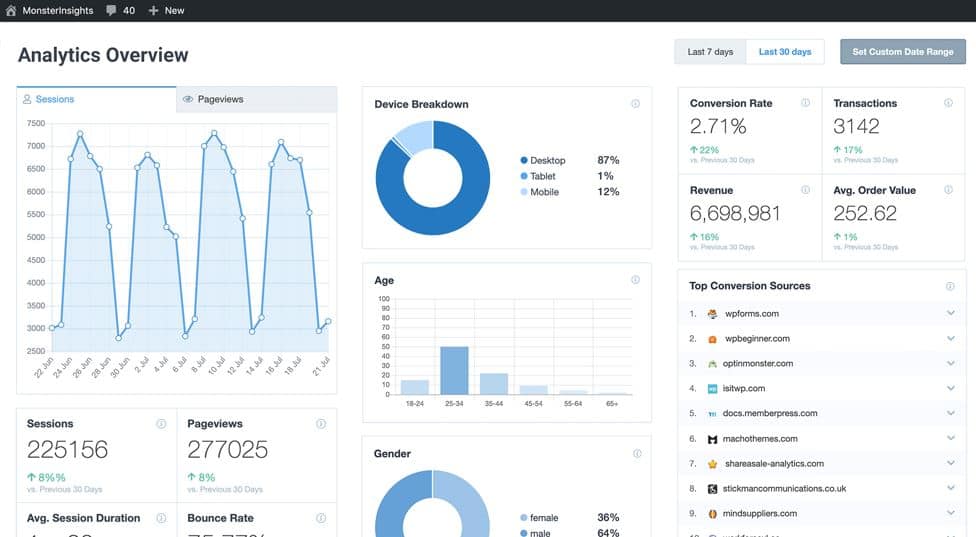 The Benefits
Easy to connect – It can be easily set up on your WordPress site. Connecting it to Google Analytics service is convenient for beginners.
For beginners – Unlike, Google Analytics which needs a web developer to analyse the statistics, Monster Insights lets you view the insights without the need of hiring a developer.
Google Analytics Dashboard in WordPress Admin – MonsterInsights integrates with your WordPress dashboard to give you all the important updates right on your screen.
eCommerce Tracking made easy – A host of features in MonsterInsights helps you to get in depth information of eCommerce sales. It shows you the details of the highest selling products, conversion rates, etc.
Tracking of downloaded files – Another great benefit of using this plugin is that it helps you track the files downloaded from your website. If you host a file download site this would really come in handy.
How To Install The Monster Insights WordPress Plugin
You will first need to register and create an account on the Monster Insights website.
Download the MonsterInsights plugin from their website.
Open the WordPress Dashboard on your website and select the "Add New" option under Plugins Tab.
Select the .zip file that you have just downloaded and click on "Install Now."
After the plugin has been uploaded and installed, click on the Activate Plugin button and enter your license key.
After the plugin has been installed you would need to give authentication to MonsterInsights to use Google Analytics. You can do this by going to the Settings Tab on your dashboard. Under Google Authentication select the "Connect MonsterInsights" button.
Then select your Google Account and click on the Allow button. Select All Web Site Data from the drop down list that appears.
Stats You Can View Inside Your WordPress Dashboard
The best part about MonsterInsights is that you can view all the important stats right at your WordPress Dashboard. This helps you monitor the real time traffic of your website.
Bounce rate of your site
Duration of an average session
Total sessions and pageviews over the last 30 days
Top performing pages/posts on your website
A report of new vs. returning visitors
Traffic share by device – desktop, tablet and mobile.
Download Your Google Analytics WordPress Plugin from Monster Insights
Click the button below to try Monster Insights
How do I install Google Analytics on WordPress with Monster Insights?
Click here to see the steps listed above – https://www.simpleseotools.net/how-to-add-google-analytics-to-your-wordpress-dashboard/#How-To-Install-The-Monster-Insights-WordPress-Plugin
Does WordPress have built in analytics?
WordPress does not include a built in way to view analytics. You will need to install Google Analytics and then use a plugin like Monster Insights to view your analytics data within WordPress.
Yes, MonsterInsights has both a free and pro version. You will have to look into the features of both to determine if the free version will suit your needs.
Is Monster Insights Safe?
Yes, it is a plugin that is developed and updated by a well known company that will continue to update it for years to come.
The Monster Insights WordPress plugin is the easiest way to add your Google Analytics data directly into your WordPress dashboard.